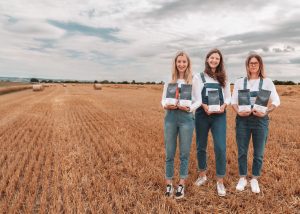 Authentic
In 2019 we travelled around Italy and learnt from the Italian families how to make pasta traditionally and authentically, meaning that our pasta is nothing like what you would find on the supermarket shelves.
Made in 2 days not 2 hours
Mass manufactured pasta takes two hours to make, arriving as flour and leaving in a plastic bag. Ours takes two days. We dry our pasta slowly overnight, at low temperatures. This gentle drying  gives our pasta time to develop flavour.
Bronze Drawn
Large factories create shapes using teflon plastic. We use traditional bronze metal dies to form ours. They are  heavy, expensive and absolutely magical. Each piece of pasta has a wonderful rough surface, once cooked they cuddle and absorb sauce, creating a beautiful cohesive dish of food. No bright yellow shiny pasta swimming around in sauce here!
Packaged in Paper
We worked very hard to be able to create our plastic free products. Our bespoke paper packaging is 100% recyclable.
Vegetarian and Vegan Friendly
Because we only use locally milled wheat flour (of which 70% is actually grown in Yorkshire, Humberside and Lincolnshire!)  and water our products can be enjoyed by vegans and vegetarians. They are also free from stabilisers or preservatives. Just flour & water. Marvelous.
Small family business
We appeared on James Martin, were raved about by Davina, have won awards (including two great taste awards!) and have made it onto some incredible restaurant menus. Our products are in over 450 independent shops and our premium pasta is being enjoyed at family dinner tables up and down the UK!
Thank you for visiting our website, we hope you love our products too.
Team Yorkshire Pasta
X
Awards: The Yorkshire Pasta Company
"I think it's delicious and will only buy from you henceforth. Great to see a little business producing such high quality products!"
"Thankyou for your attention to detail and customer service. We are converts to your pasta since the appearance on James Martin. Absolutely love it."
"It is so good to be able to shop sustainability and not sacrifice taste. We have been enjoying your pasta for months! "