Pronounced "foo-see-llee" in Italian or "spirals" in Yorkshire.
Fusilli 'spindles' are like a corkscrew – it is the helterskelter of the pasta world! The swirly design partnered with the texture created from our traditional bronze-drawn method, leads to a champion sauce-holding ability and such a delightful mouthfeel. The shape is a pretty funky creation when you think about it. We love to eat these stirred into a punchy bolognese sauce.
Why buy our pasta?
The difference… locally milled wheat flour, traditional artisan techniques and a love for REAL pasta. 
The taste is second to none. We dry our pasta slowly overnight at low temperatures to allow  robust and wholesome flavours to develop. 
The eating experience is sublime. We use traditional bronze dies to give our pasta that important rough surface that sauces cling to. 
We produce a more sustainable and tastier British pasta. Our 'family secret' blend of locally milled wheat flours replace imported Durum semolina. And all of our pasta is packed in 100% recyclable paper bags. We are plastic free and run using solar power too.
Just eaten with James Martin's ragu sauce. The pasta was amazing. We will definitely be buying it again when we've eaten up this batch. Cracking!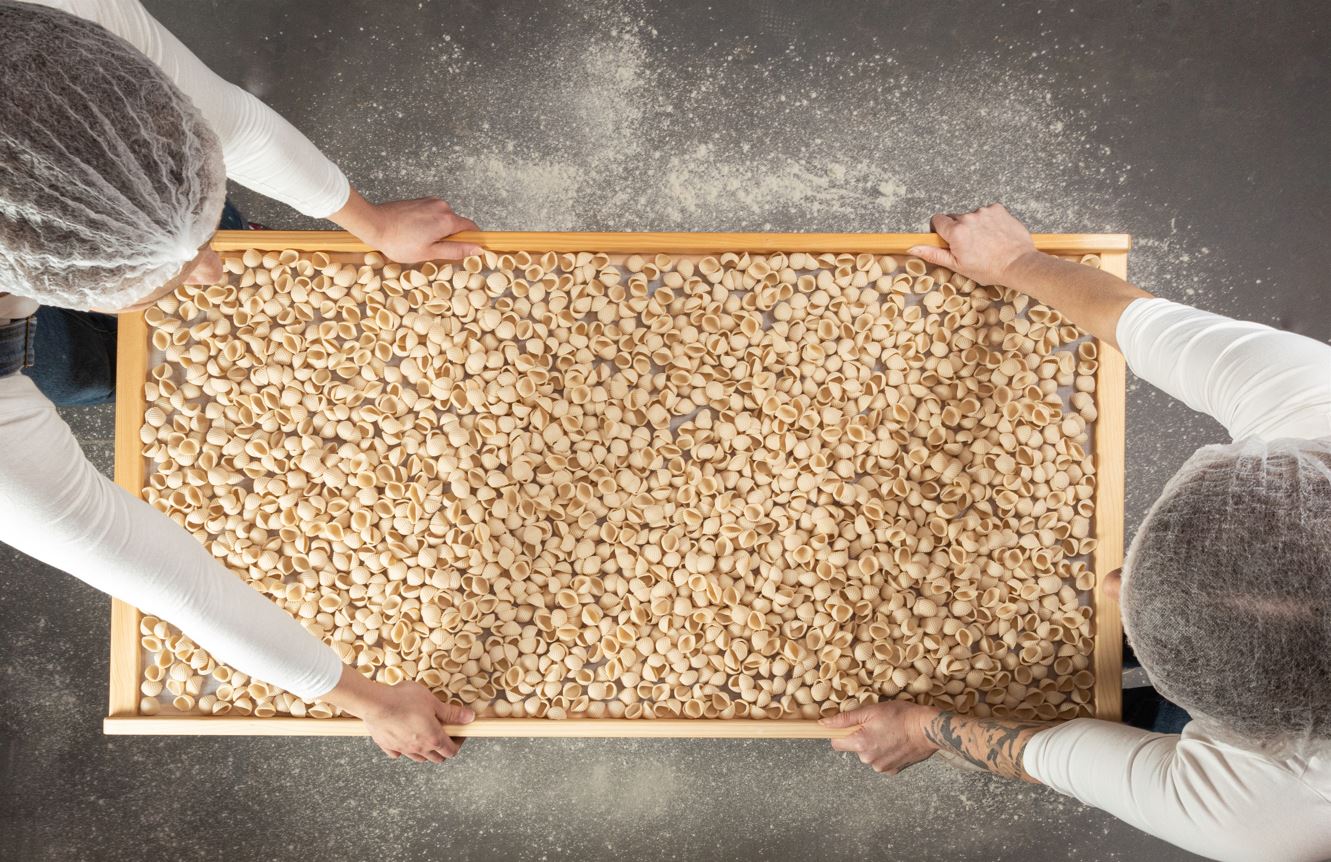 British Artisan Pasta. You probably didn't know that dried pasta could taste this good! Our Yorkshire Pasta is made by combining locally milled wheat flour with traditional techniques enabling us to create a beautiful wholesome and robust pasta. We dry our pasta slowly overnight at gentle temperatures to allow the flavour to really develop. And of course, we use bronze dies meaning that our pasta soaks up the sauce way better than mass manufactured pasta. Our pasta is Vegan and we make a huge effort to be sustainable; using green energy and selling our pasta in 100% recyclable paper packaging!
Additional information
Weight
5 kg
Ingredients

Wheat flour with vitamins and minerals (calcium carbonate, iron, niacin (B3), thiamin (B1)).

Suitable for Vegans

Yes

Nutritional Values

Per 100g as sold.
Typical Values:
Energy 1424kj/340kcal
Fat 1.4g of which saturates 0.2g
Carbohydrate 73.9g of which sugars 1.4g
Fibre 3.4g
Protein 13.3g
Salt 0.01g

Shelf Life

24 Months

Allergen Information

For allergens see ingredients in bold.

Delivery Info

We are a small family business and each order is packed by hand, please allow up to 6 working days for your order to be delivered.
Related Recipes