Sausage Ragu with Mezze Maniche Rigate Yorkshire Pasta
By: @cero.theonlinefarmersmarket
A tasty budget friendly recipe, this recipe can be tweaked for different diet types and can be doubled up to feed the freezer – see our tips at the bottom.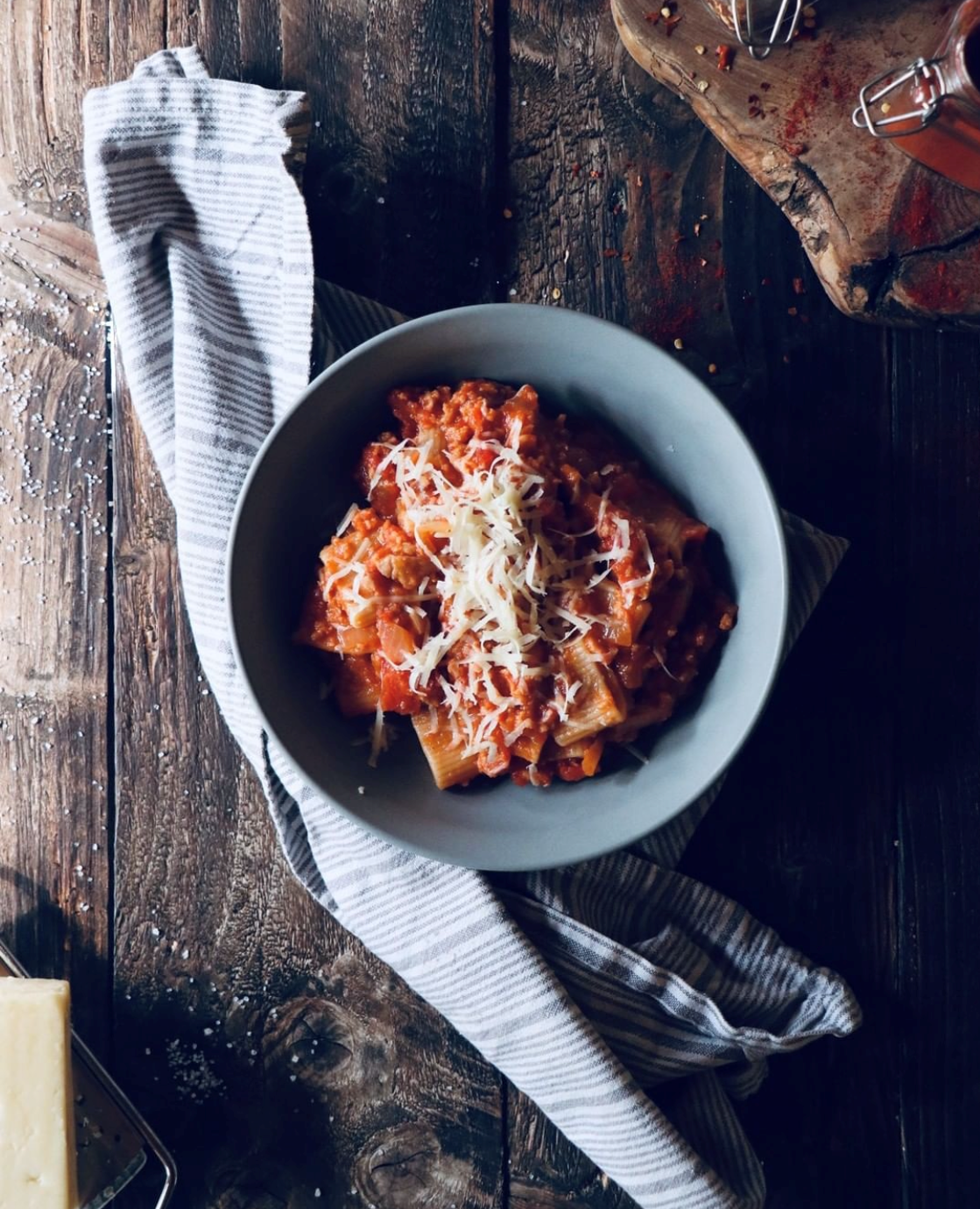 350g Mezze Maniche Rigate Yorkshire Pasta

3 tbsp olive oil

pinch of salt

1 finely chopped onion

2 crushed garlic cloves

1/4 tsp chilli flakes

1/2 tsp smoked paprika

2 rosemary sprigs, leaves finely chopped

2x 400g tins of chopped tomatoes

1/2 tbsp brown sugar

6 pork sausages

150ml whole milk

Grated parmesan to serve
Step by Step Instructions
Step 1
Heat 2 tbsp of oil in a saucepan over a medium heat, add in the chopped onion with a pinch of salt for 7 minutes. Add the garlic, chilli, smoked paprika and rosemary then cook for a further minute.
Step 2
Pour in the two tins of chopped tomatoes and sugar, simmer for 20 minutes.
Step 3
Heat the remaining oil in a frying pan over a medium heat. Squeeze the sausage meat from the skins and stir to break it up, fry for 5-7 minutes until golden. 
Step 4
Cook the pasta for 13 minutes, or shorter if you prefer a firmer 'al dente' texture. 
Step 5
You may want to taste the sauce at this point, if it needs a little more sweetening, add up to another 1/2 tbsp of brown sugar, if it is too sweet you can add some more chilli flakes or smoked paprika.
Step 6
Add the sausagemeat and milk to the sauce, simmer for a further 5 minutes.  
Tips
– Double up on ingredients and once the sauce is made, allow to cool. Once cool transfer into portions and freeze
– For a vegetarian option swap the pork sausages for some red lentils or some delicious portobello or wild mushrooms