Pronounced "pen-nay" in Italian or "t-pointy one" in Yorkshire.
One of the all-time favourites: penne. We make our penne 'rigate', meaning ridged, which helps this little guy hold its shape and soak up sauce. 'Penne' comes from the Italian word for quill and the angled end encourages even more sauce to be scooped up. Safe to say this is one saucy fella. These characteristics mean that this pasta is destined for a baked masterpiece.
Why buy our pasta?
The difference… locally milled wheat flour, traditional artisan techniques and a love for REAL pasta. 
The taste is second to none. We dry our pasta slowly overnight at low temperatures to allow  robust and wholesome flavours to develop. 
The eating experience is sublime. We use traditional bronze dies to give our pasta that important rough surface that sauces cling to. 
We produce a more sustainable and tastier British pasta. Our 'family secret' blend of locally milled wheat flours replace imported Durum semolina. And all of our pasta is packed in 100% recyclable paper bags. We are plastic free and run using solar power too.
Probably the highest quality pasta I've tasted, definitely outside of Italy. My late wife is first generation Sicilian & our two boys (& me) have grown up eaten pasta in various guises with fresh sauces made from scratch. I'll be taking some Yorkshire Pasta with me to Nonna & Nonno in Sicily this August.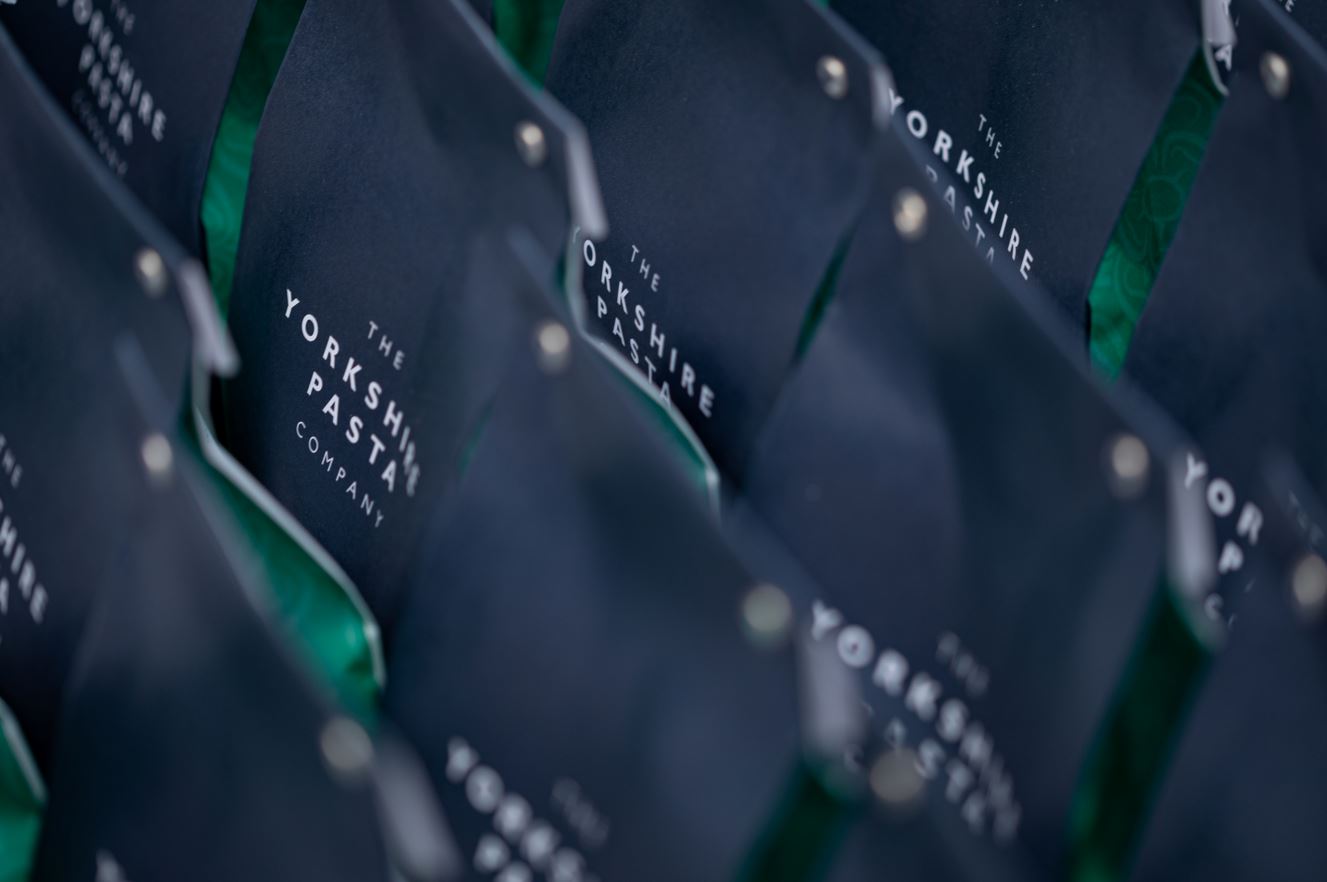 We are so proud to be plastic free!
Our 100% recyclable paper bags took so much development. We worked with over 40 manufacturers before we found the solution that worked. Our bags needed to be robust enough to keep those pesky pointy penne in check! After sourcing our bags, the next challenge was to work out a way to seal them which didn't involve your typical plastic sticky tab or heat sealing with solvent glues. That is where our clever little eyelets, inspired by lacing up dress shoes, came in. Problem solved and an extra layer of premium added 'to boot'!
British Artisan Pasta. You probably didn't know that dried pasta could taste this good! Our Yorkshire Pasta is made by combining locally milled wheat flour with traditional techniques enabling us to create a beautiful wholesome and robust pasta. We dry our pasta slowly overnight at gentle temperatures to allow the flavour to really develop. And of course, we use bronze dies meaning that our pasta soaks up the sauce way better than mass manufactured pasta. Our pasta is Vegan and we make a huge effort to be sustainable; using green energy and selling our pasta in 100% recyclable paper packaging!
Additional information
Weight
5 kg
Suitable for Vegans

Yes

Nutritional Values

Per 100g as sold.
Typical Values:
Energy 1424kj/340kcal
Fat 1.4g of which saturate 0.2g
Carbohydrates 73.9g of which sugars 1.4g
Fibre 3.4g
Protein 13.3g
Salt 0.01g

Shelf Life

24 Months

Allergen Information

For allergens see ingredients in bold.

Delivery Info

We are a small family business and each order is packed by hand, please allow up to 6 working days for your order to be delivered.